Misa is a popular Japanese idol from Death Note. She is immature and tends to refer to herself in the third person in an attempt to be cute. She is completely devoted to Light, saying that she loved him at first sight, although the feeling is hardly mutual- since Light merely views her as a rather annoying asset. In the manga version, she kills herself after Light's death, which is implied in the anime's finale. What happens to her after the film version is uncertain- the only remaining characters whose fates are revealed are L and the Yagami family.

Misa Amane in the anime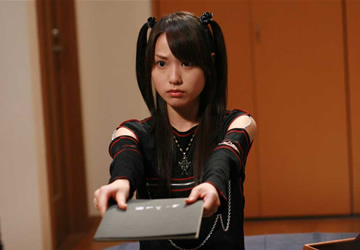 Misa Amane in the films
Misa, portrayed in the film by Erika Toda. Toda said that she admired the fact that Misa "does everything she sets out to do" and that the actions of Light and Misa are "criminal."
Death Note Misa cosplay
Misa is a cute, she owns a beautiful appearance, and she is dedication of love. Misa is a many girls' idol, hence there are so many Death Note Misa cosplay. Do Misa cosplay is very easy! Just a Misa cosplay costume and a death note, maybe a wig.